Competency and Skill Mapping
Uncover the hidden potential in your organization
Do you know what your organization knows? Skillhive will quickly give you an accurate picture of the skills and potential of your people. You will see which skills and abilities are unutilized and what skills you are lacking to get things done.
There is no better way to map the skills and abilities in your organization and retain the information easily.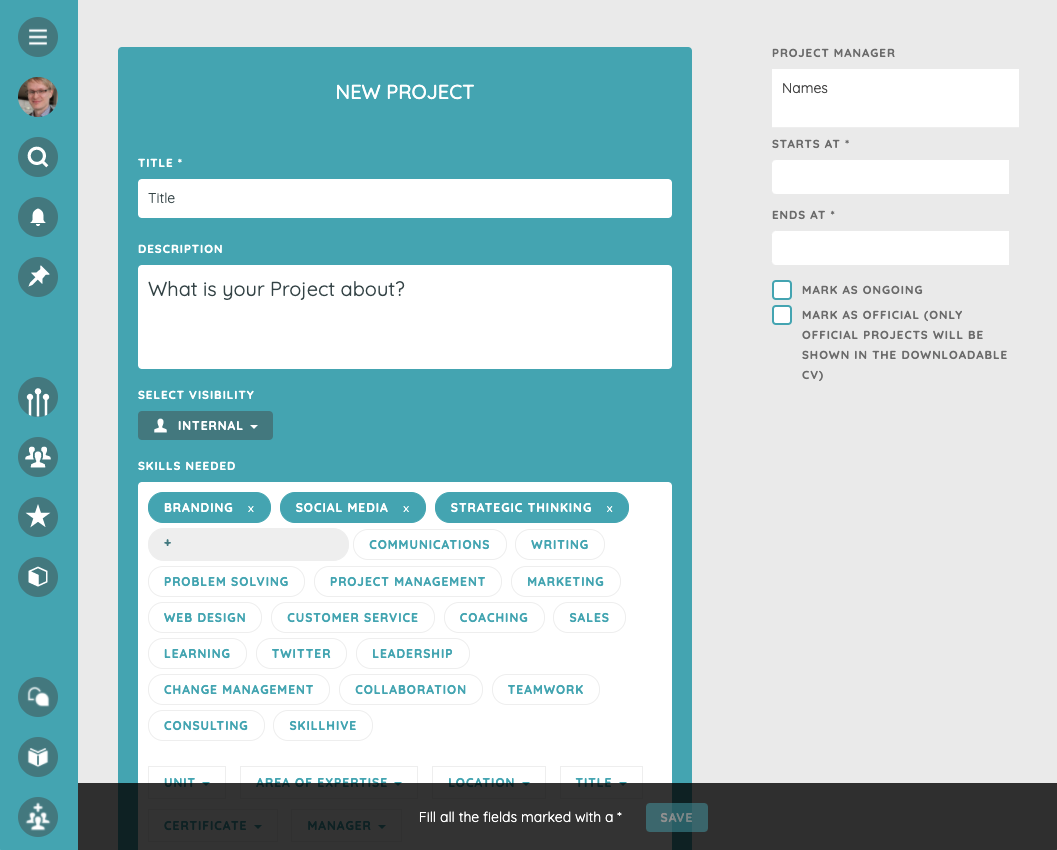 1
The visibility of all content on Skillhive can be precisely defined: for everyone, for own staff or just for invitees.
2
In addition to skills people can be found based on a number of different search criteria (such as interest, recommendations, location, certifications, and availability).
Internal Talent Marketplace & Extended Workforce
Match people's skills and interests to your business needs
The best results are achieved when the right skills and passion are in place, when and where they are needed.
With Skillhive, you can create a talent pool which allows you to leverage both an internal and external talents. Clients or partners may also be involved, which means that the success of your projects will not be hindered by organizational structures.
You will find the right talent based on several search criteria: skills, motivation, recommendations, location, certificates and availability.
Skillhive makes the task of creating a dream team easier and faster than ever before.
Comprehensive Expert Profiles, Resumes & Certificates
Embrace the internal motivation of your employees
Put away the carrots and sticks. An inspired employee is much more productive than one who only collects a paycheck.
Providing employees with the chance to utilize their strengths and further develop themselves increases loyalty and engagement.
Knowing the strengths within your own employee talent pool allows you to connect the right team member to the right opportunity.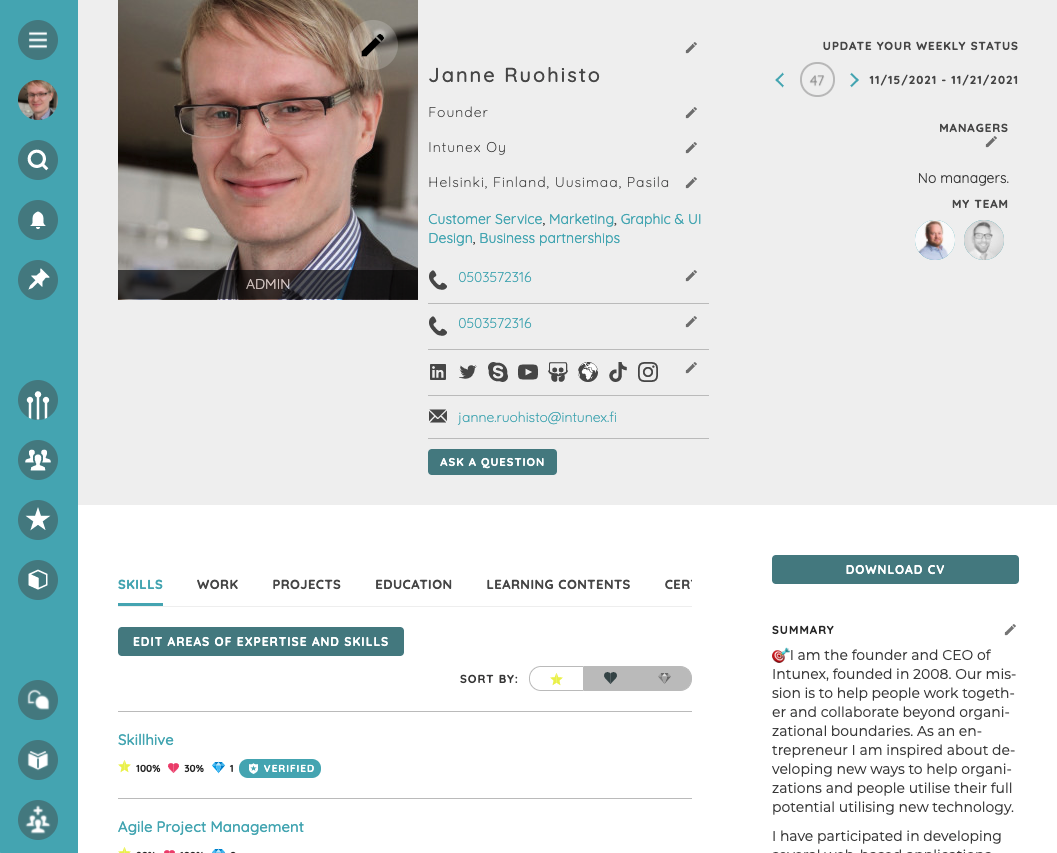 1
Each user has their own expert profile, which includes comprehensive information about a person's skills, strengths, and interests.
2
Keeping your profile information up to date is easy and visually motivating. Competence assessment is not a one-off event, but an ongoing process.
3
Up-to-date and consistent CVs at your disposal to support sales or project resourcing, for example.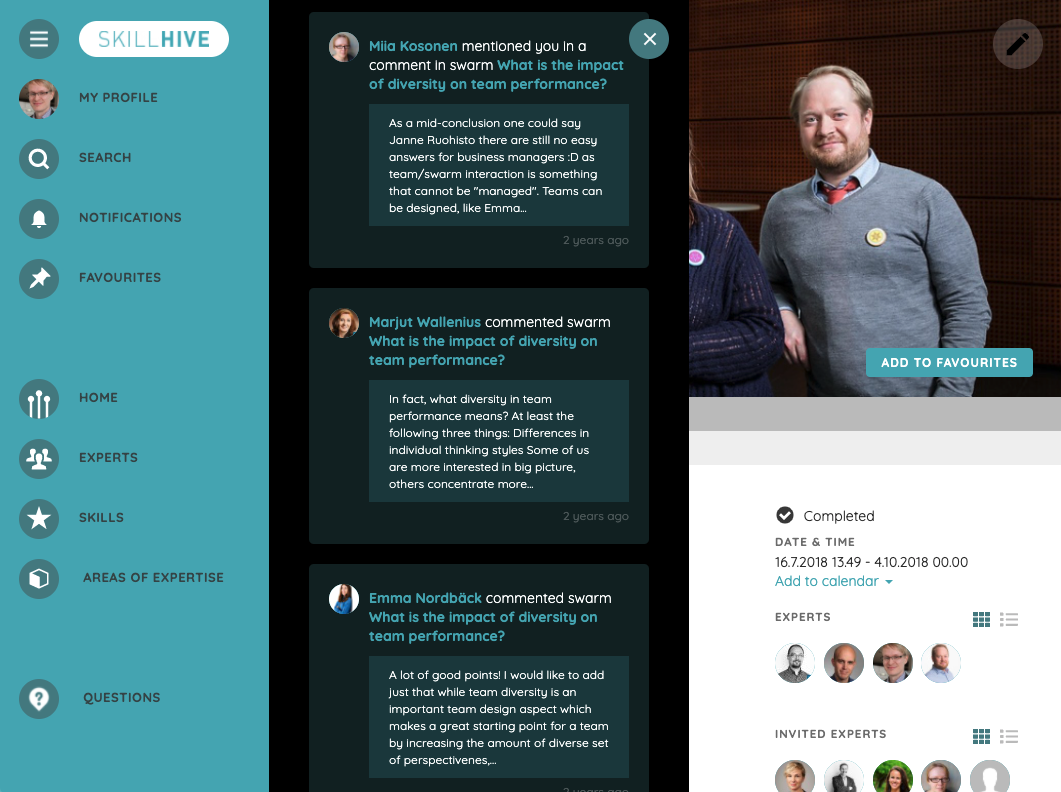 1
Replace outdated development discussion forms with a genuine and ongoing discussion about development.
2
Targeted goals and to-do lists to track progress.
3
Skillhive offers complete flexibility in limiting the visibility of your content. An external facilitator or mentor may also be involved in the discussion.
Team Discussions, 1-on-1's
Transform annual performance reviews into an ongoing discussion on development
Are you insisting on performance reviews being conducted once or twice a year using forms that no one can identify with?
Skillhive allows you to replace outdated performance appraisals with ongoing and transparent discussions regarding development with each team member.
Skillhive combines the goals of both the organization and each individual to achieve more together.
Learning Experience Platform (LXP)
Take advantage of all forms of learning instead of settling for just courses
Only a fraction of learning takes place in courses.
Learning is increasingly happening with in the flow of work.
In addition, a large proportion of learning takes place outside organizational boundaries with a variety of open networks and digital platforms.
Skillhive offers a modern learning experience that applies all forms and contents of learning, both internal and external, and aligns learning with business needs.
1
Skillhive's smart and powerful algorithms connects the best learning contents and opportunities for the right people.
2
Let your experts bring out what they think are the best learning content about the things they know best, and help them share this information with their colleagues.
EVERYTHING YOU NEED TO CREATE AN AGILE LEARNING ORGANIZATION
THIS SWARM IS GOOD TO BE IN
Let's hear from the ones who are benefiting from Skillhive.